NEWS
Disturbing Malawian Cultural Ritual has man being paid to have sex with children
By
|
It's traditional for girls to be made to have sex with a paid male sex worker known as a "hyena" once they reach puberty in some remote southern regions of Malawi.
The act is seen by village elders as cleansing, but as a form of ritual "rape". However, it has the potential to be the opposite of cleansing – a way of spreading disease.
Eric Aniva lives in Nsanje district in southern Malawi. Goats and chickens graze in the dirt outside. Aniva is by all accounts the pre-eminent "hyena" in this village. It's a traditional title given to a man hired by communities in several remote parts of southern Malawi to provide what's called sexual "cleansing".
If a man dies, for example, his wife is required by tradition to sleep with Aniva before she can bury him. If a woman has an abortion, again sexual cleansing is required.
And most shockingly, in Nsanje, teenage girls, after their first menstruation, are made to have sex over a three-day period, to mark their passage from childhood to womanhood. If the girls refuse, it's believed, disease or some fatal misfortune could befall their families or the village as a whole.
"Most of those I have slept with are girls, school-going girls," Aniva told the BBC.
"Some girls are just 12 or 13 years old, but I prefer them older. All these girls find pleasure in having me as their hyena. They actually are proud and tell other people that this man is a real man, he knows how to please a woman."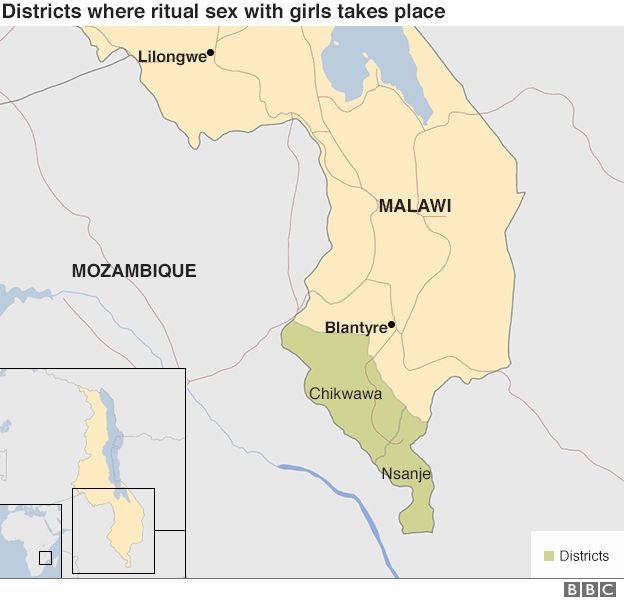 "There was nothing else I could have done. I had to do it for the sake of my parents," one girl, Maria says. "If I'd refused, my family members could be attacked with diseases – even death – so I was scared."
In the village, all her female friends were made to have sex with a hyena.
He's one of 10 hyenas in this community, and that every village in Nsanje district has them. They are paid from $4 to $7 each time.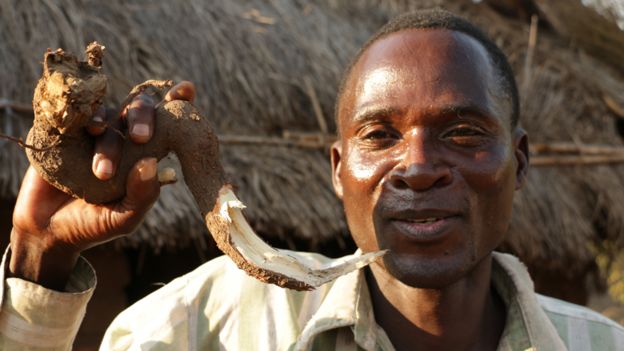 All of those involved in these rituals are aware that these customs are condemned by outsiders – not just by the church, but by NGOs and the government as well, which has launched a campaign against so-called "harmful cultural practices".
"We are not going to condemn these people," says Dr May Shaba, permanent secretary of the Ministry of Gender and Welfare. "But we are going to give them information that they need to change their rituals."
Parents who have had more education than others may already choose not to hire a hyena, I am told. But the female elders I spoke to remain defiant.
Father Boucher points out that the efforts to change this sexualisation of children have been stubbornly resisted in remote southern areas, despite more than a century of Christianity and 30 years of the Aids epidemic. In most of the country – and particularly in areas close to the cities of Blantyre and Lilongwe – "sexual cleansing" is rarely if ever practised.
In Malawi's central Dedza district, hyenas are only ever used to initiate widows or infertile women, but the Paramount Chief Theresa Kachindamoto – a rare female figurehead in Malawi – has made the fight against the tradition a personal priority.
In Nsanje, though, there is little effort to bring about change. With Malawi one of the poorest countries in the world, and suffering from growing reports of rural hunger, it's not a policy priority.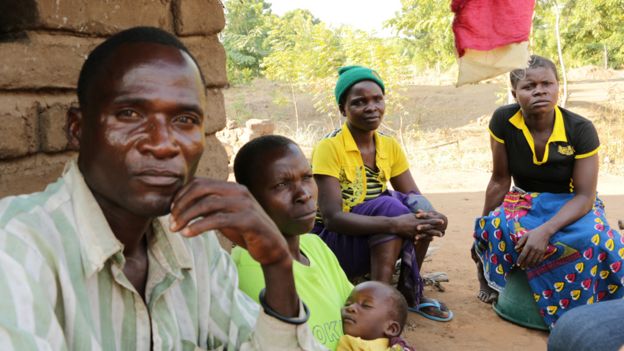 In a remote village, I meet one of Aniva's two wives, Fanny, along with his youngest baby daughter. Fanny was herself widowed before being "cleansed" by Aniva with sex. They married soon after.
Their relationship looks strained. Sitting next to him, she admits shyly that she hates what he does, but that it brings necessary income. I ask her if she expects her two-year-old to be undergoing initiation too in perhaps 10 years from now.
"I don't want that to happen," she says. "I want this tradition to end. We are forced to sleep with the hyenas. It's not out of our choice and that I think is so sad for us as women."
"You hated it when it happened to you?" I ask.
"I still hate it right up until now."
When I ask Aniva too whether he wants his daughter to undergo sexual cleansing, he surprises me again.
"Not my daughter. I cannot allow this. Now I am fighting for the end of this malpractice."
"So, you're fighting against it, but you are still doing it yourself?" I ask.
"No, as I said, I'm stopping now."
"Really?"
"For sure. For real, I'm stopping."
UPDATE: On July 26 Eric Aniva was arrested on the orders of Malawian president Peter Mutharika. 
source: bbc.com